Did you know that? Phuket is an island, or more exactly an peninsula as it has been connected to the mainland since 1951 by the Sarasin Bridge at its northern end. In addition to its status as the largest island in Thailand, Phuket is also a province, one of the 76 provinces of the kingdom.
A bit of local geography: this beautiful Thai province is organized in 3 administrative regions: Thalang (north), Kathu (west) and Mueang (south). It is thus the latter that interests us, because it is there, at the southern end of the island that the village of Rawai is located. Well, now that we know where Rawai is, how to get there and what to do south of Phuket?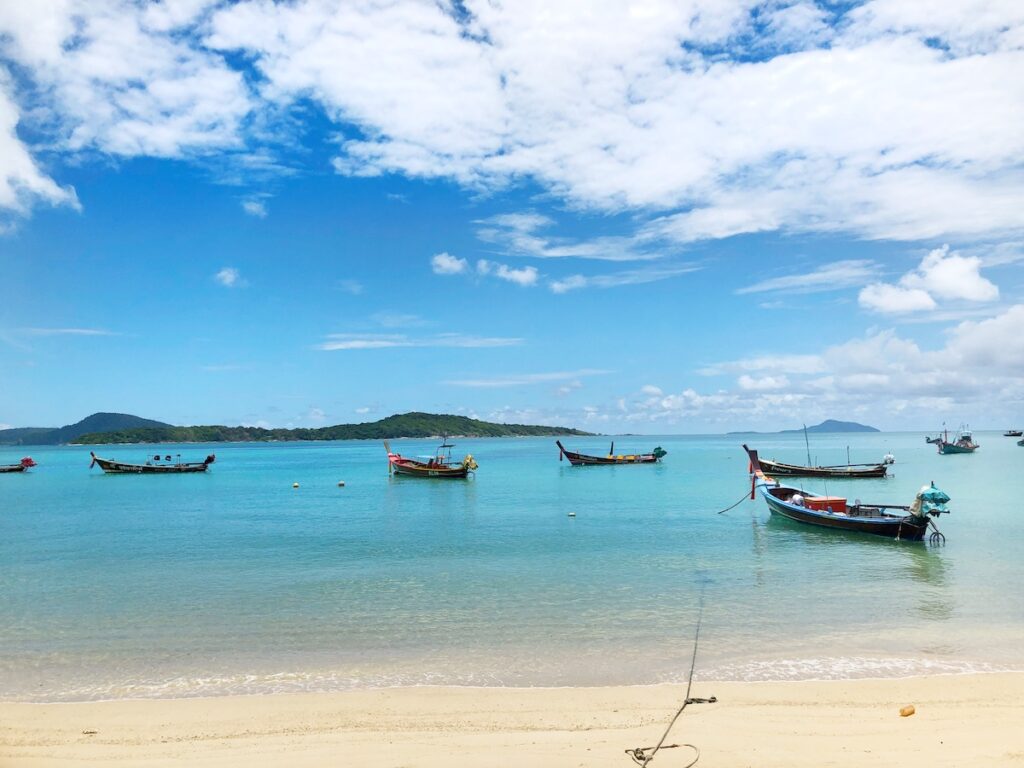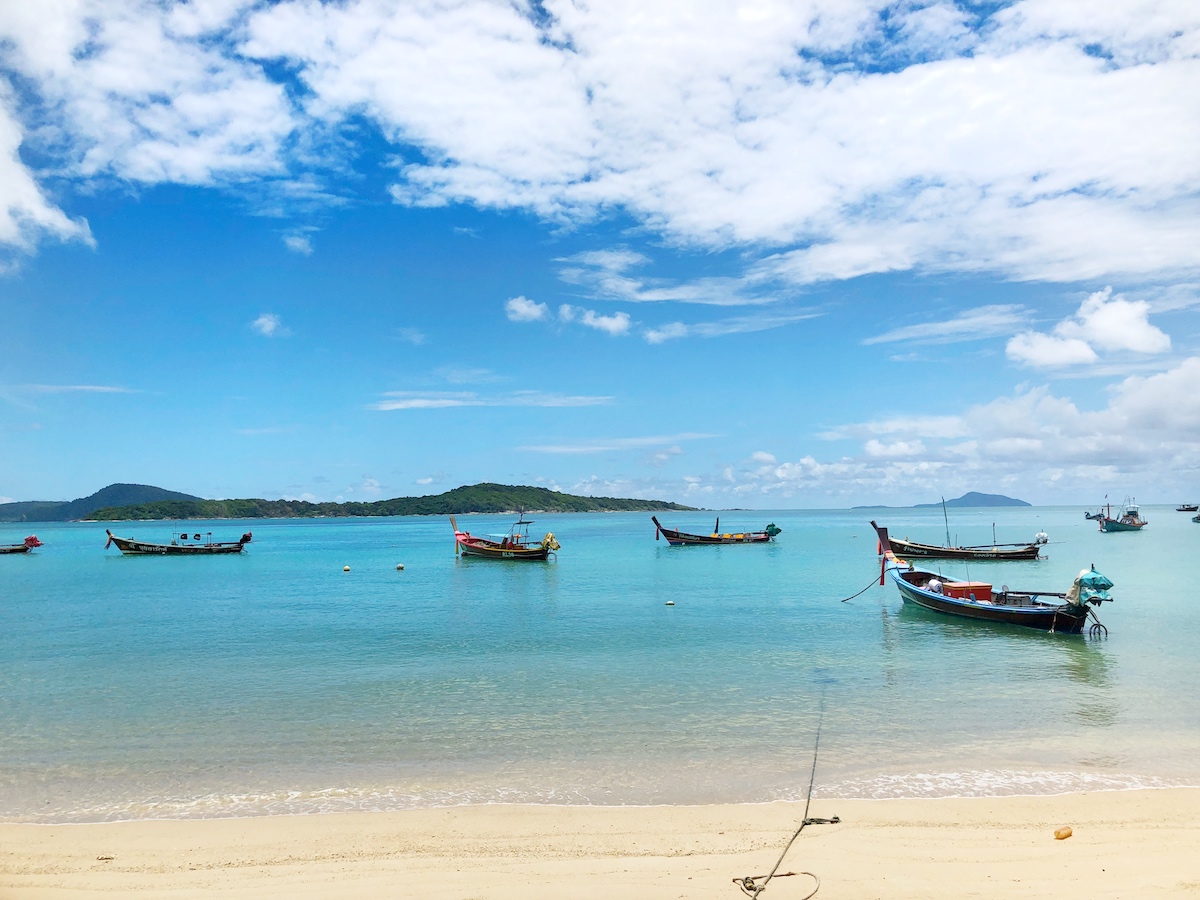 Rawai Beach, Phuket
---
How do we get to Rawai?
Rawai is 45 km from Phuket International Airport and 55 km from the Sarasin Bridge. If you arrive by car from the bridge, follow the 402 to Ko Kaeo and then take the 4024 towards Chalong and then Rawai. Allow a good hour's drive depending on traffic.
If you're arriving from Phuket International Airport:
By taxi: about 45 minutes. The fare is between 800 and 1000 Thai Baht by car and between 1200 and 1600 Thai Baht by private minivan.
By bus: available at the exit of the terminal, the Phuket Smart Buses will take you to Rawai along the west coast and the different beaches. Count 1:30 to 2:00. It will cost you 170 Baht.
By car: Many rental agencies are available at the airport and it is easy to get to Rawai on your own. It is also possible to book an airport transfer with car or scooter rental with Nina's Car agency in Rawai with delivery to your villa.
---
What to do during your holidays in Rawai?
Swimming, diving and sunbathing
The Rawai district has several beaches, each with its own charm.
Rawai beach: not suitable for swimming. The water is shallow and it is a starting point for the surrounding islands such as the coral island at 20 minutes by boat that we recommend. On the other hand, Rawai offers a magnificent panorama and typical Thai charm with its turquoise waters and traditional boats. It is also a very pleasant place to live where it is good to have a drink in the shade of the hundred-year-old filaos under which the seafood restaurants serve local specialties.
Nai Harn Beach: The beautiful beach par excellence, fine sand, turquoise and clear waters bordered by hills with lush tropical vegetation. It is ideal for family bathing. The surrounding environment is very pleasant with the lagoon set back from the beach.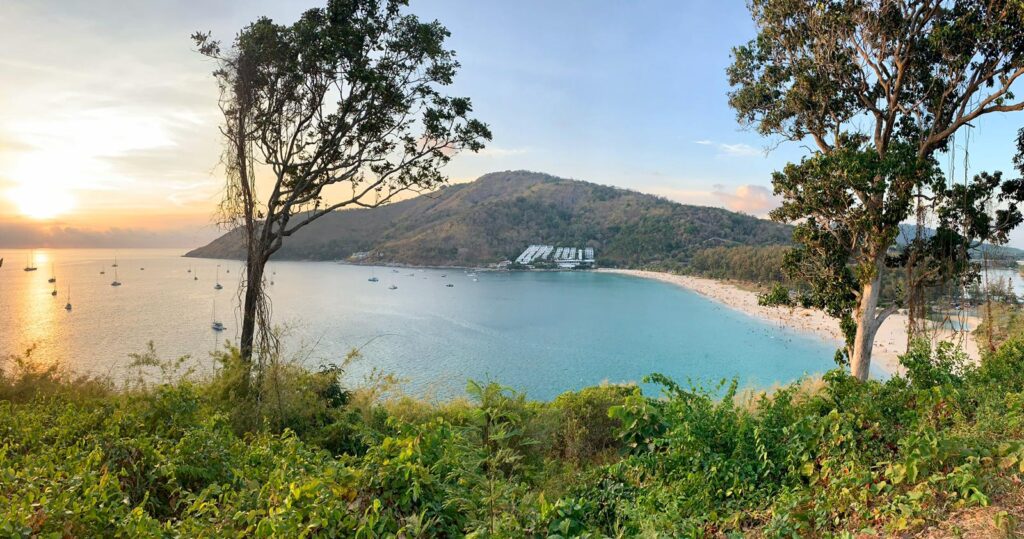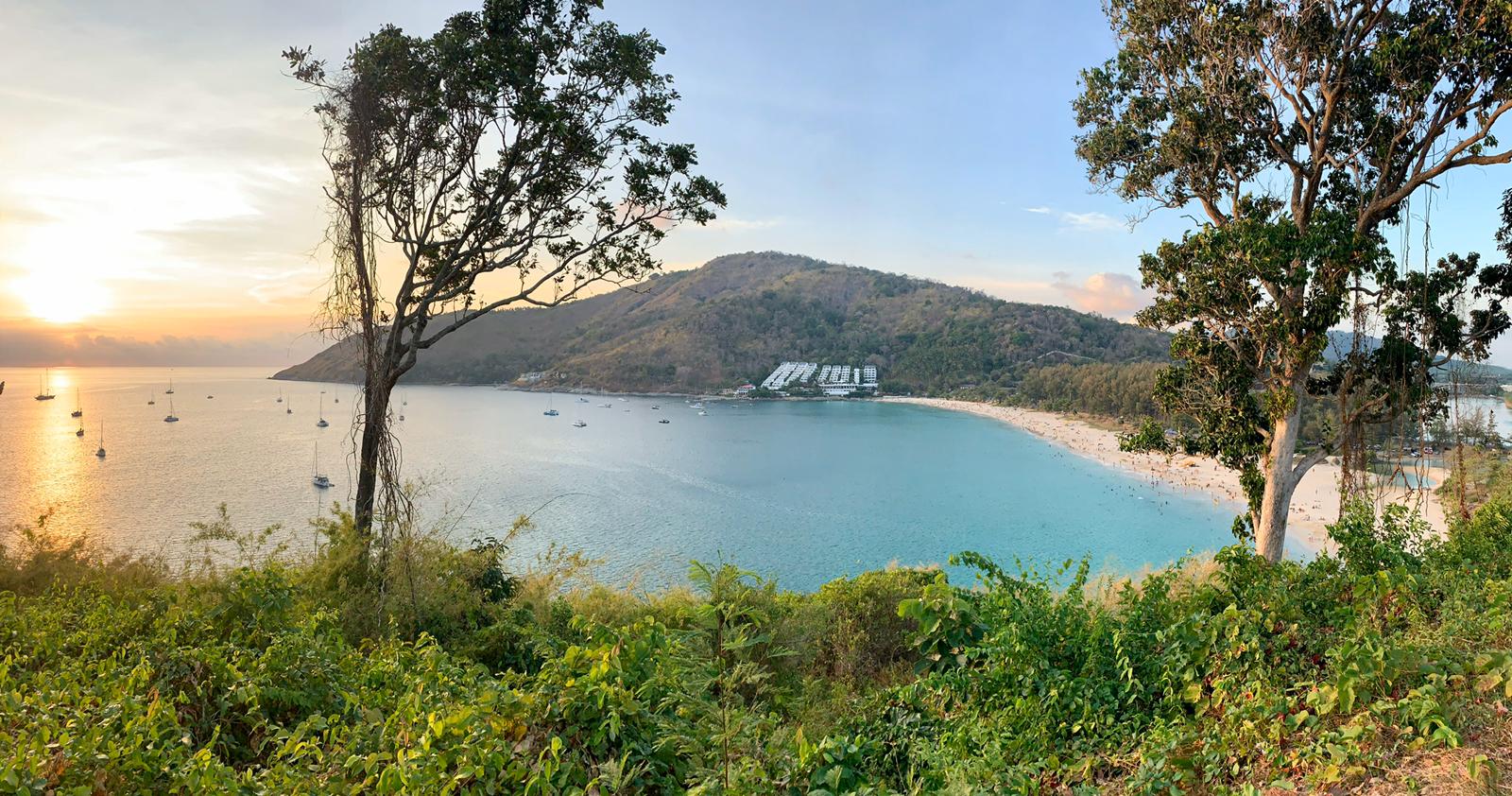 Nai Harn Beach, Phuket
---
Ao Sane Beach: a pretty little cove nestled in the extension of Nai Harn Beach, 400 meters after the hotel you see on the west side of the beach. Ao Sane beach has a beautiful seabed and a diving centre at the entrance to the beach where you can discover this small and colourful aquatic world. A restaurant on the beach serves all the great Thai classics and fresh drinks at all hours of the day.
Yanui beach: don't forget your mask and snorkel, there is a nice underwater show! A small cove nested between the "Laem Prompt Thep" cape and the Nai Harn beach (behind the wind turbine). Very beautiful seabed and a whole aquatic flora to be visited preferably at high tide. There are some pebbles when the tide is at its lowest.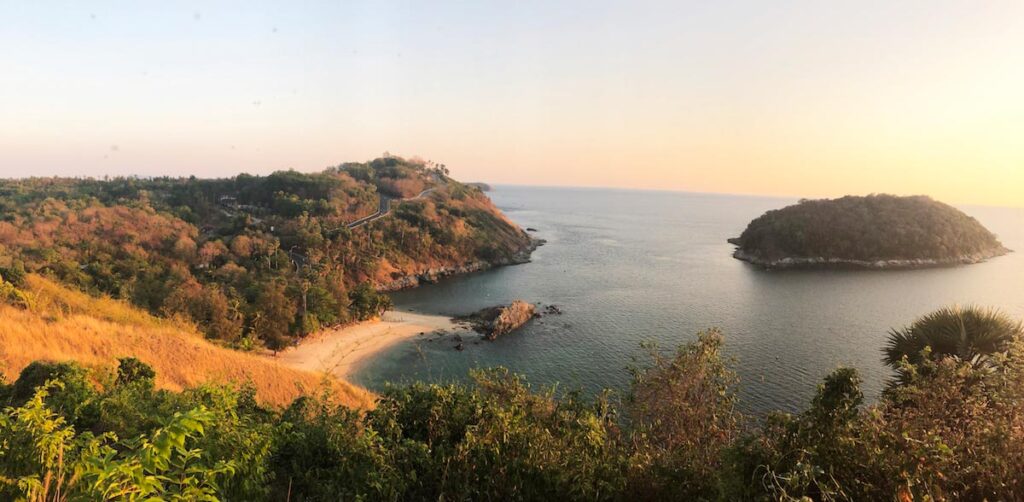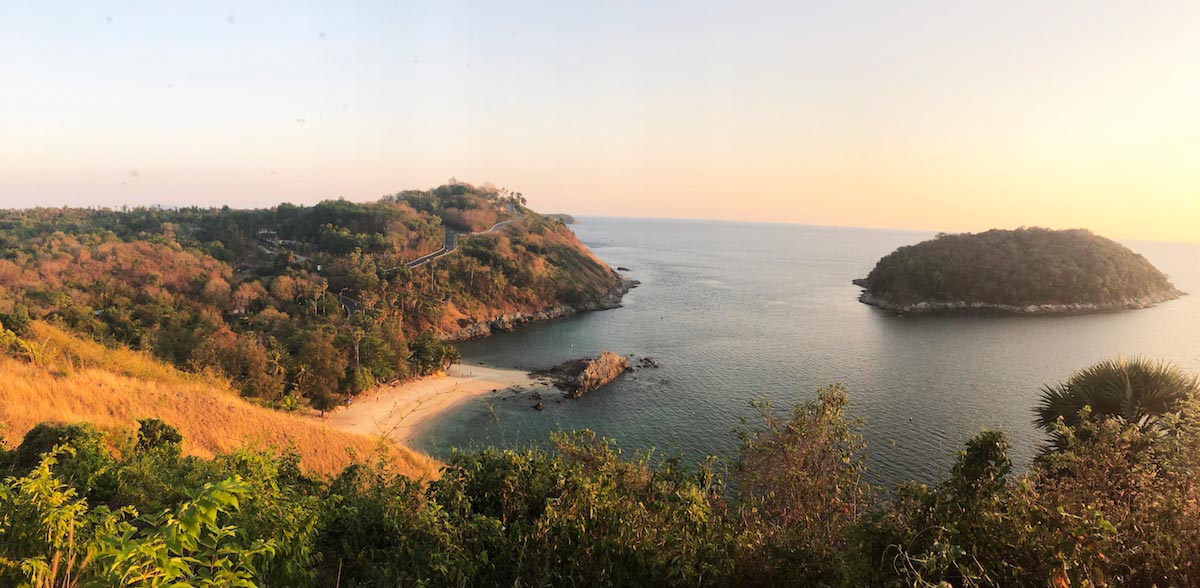 Yanui Beach, Phuket
---
Laem Ka beach is currently inaccessible by land, but is still accessible by sea and traditional boats from the fishing village of Rawai can take you there. It is one of the few east facing beaches in Phuket offering a beautiful light in the morning and a calm sea for swimming all year round.
The islands: idyllic beaches await you on the islands opposite Rawai beach and are accessible by traditional boats (Long tail boats). These are very pleasant excursions to make over a day or half day. Don't forget the masks and snorkels!
Where to eat in Rawai ?
The Rawai region is full of good addresses and choices. It would be difficult for me to list all the restaurants we enjoy in the area so here is a selection of our favorites:
Nikita: An excellent compromise if you have children who are not yet comfortable with Thai food. You will find sandwiches and fries as well as Thai food. The setting, under the trees and with the view on the beach is superb.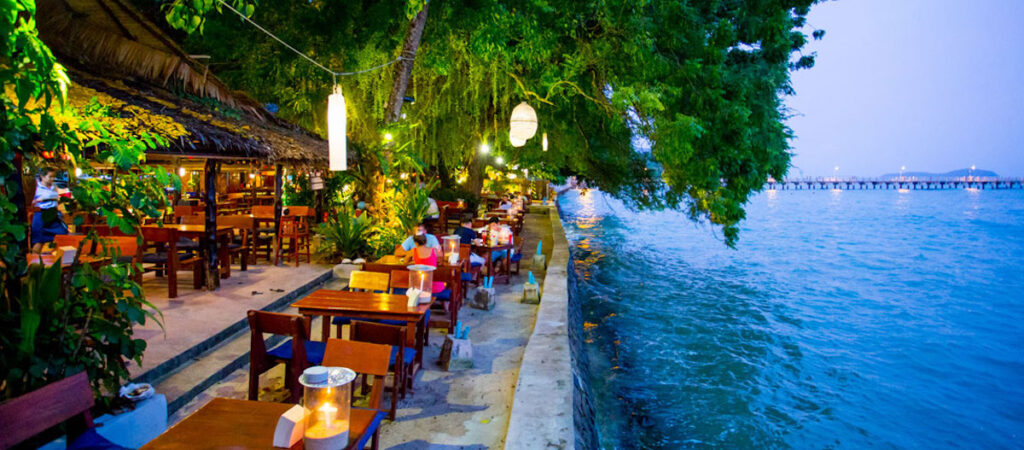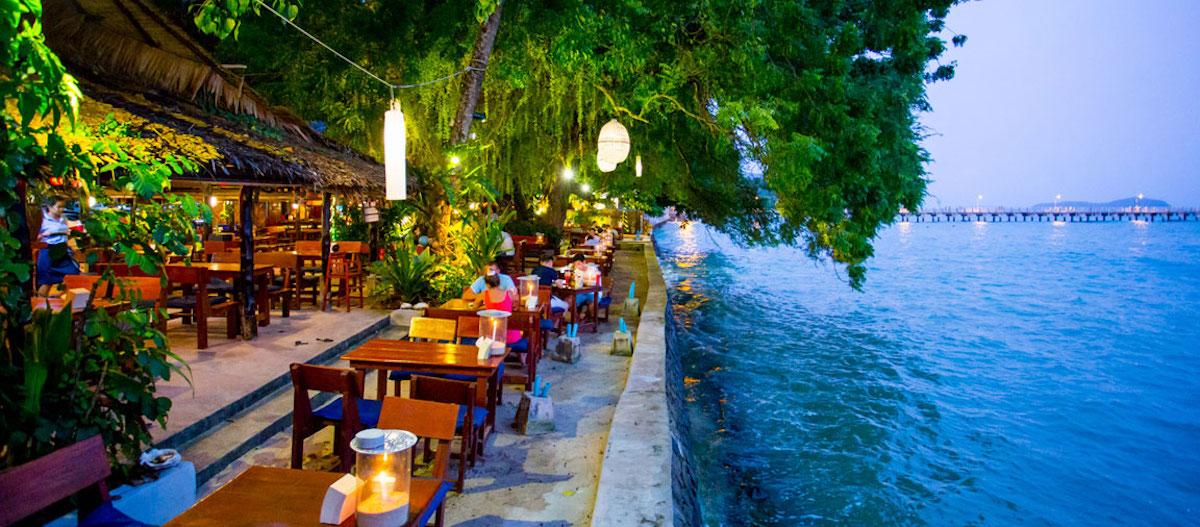 Nikita Restaurant, Rawai Beach, Phuket
---
Salaloy: one of the first to restore Rawai beach, just after the Nikita, installed on the promenade. Authentic Thai cuisine, fresh seafood and all at Thai prices.
Costa Grill: French bistro established along the beach of Rawai. It serves pizzas, French classics but also Thai. There is a covered terrace and an air-conditioned room. Very good selection of wines
Happy Jack: between Rawai and Nai Harn, we eat and drink well. The Belgian owner welcomes you in a casual Tapas Bar atmosphere with a nice selection of drinks and dishes.
Zen Eat: a favorite of his last years. Welcome to the "bistronomy" with dishes designed to surprise your eyes and taste buds.
For more good addresses in Phuket we advise you to consult the site whereToEat-phuket which lists every year the best restaurants on the island.
Where to go out for a drink in Rawai?
Rawai's much quieter than Patong. Nevertheless, if you feel like going out for a drink and even hanging around until dawn, it's possible. Happy Jack, mentioned above, is a very good option for an aperitif after the beach. Shot Bar, a few hundred meters away, allows you to play billiards on quality tables in an air-conditioned hall. Numerous bars and "plazas" that group together several bars can be found along Saiyuan road. To dance the night away, the Laguna night club and plaza is at the end of Viset Road.
Where to work out in Rawai?
After partying, a bit of sport will do you good. Many water sports are available in Phuket starting with diving (from Chalong) and surfing in low season at Nai Harn or Kata Beach. There are many gyms offering various fitness and fitness programs such as PhuketFit in the extension of Rawai Beach. And why not try your hand at the national sport during your stay in Phuket? There are many small clubs in Rawai where beginners are also welcome and to quote one of the best known: Aka Thailand on the heights of Rawai towards Chalong.
Body and soul wellness in Rawai
Phuket is more than ever a "wellness" destination where holidaymakers come to recharge their batteries and take care of their body and mind. Thai culture is intimately linked to the well-being of body and mind and it is in this sense that traditional Thai massage and reflexology have been practiced for centuries. Kym's Massage & Spa along Rawai beach offers these traditional Thai massages. There are also wellness centers in Rawai with "Detox" programs offered at the Atsumi center a few steps from Nara Villa.
For an Ayurvedic consultation and treatment, the Mangosteen Ayurveda Spa in Rawai will remain a unique and rewarding experience.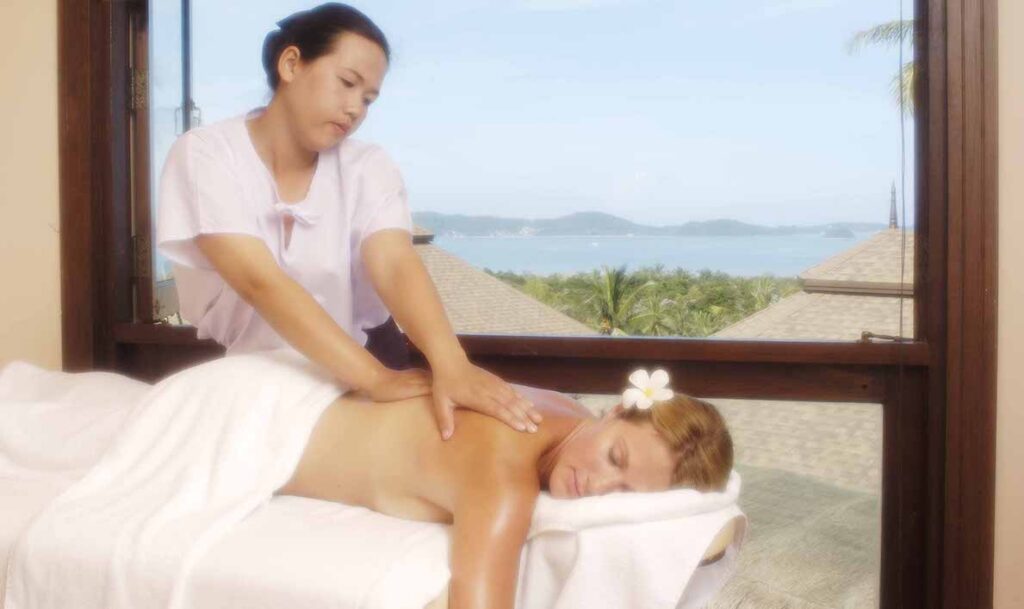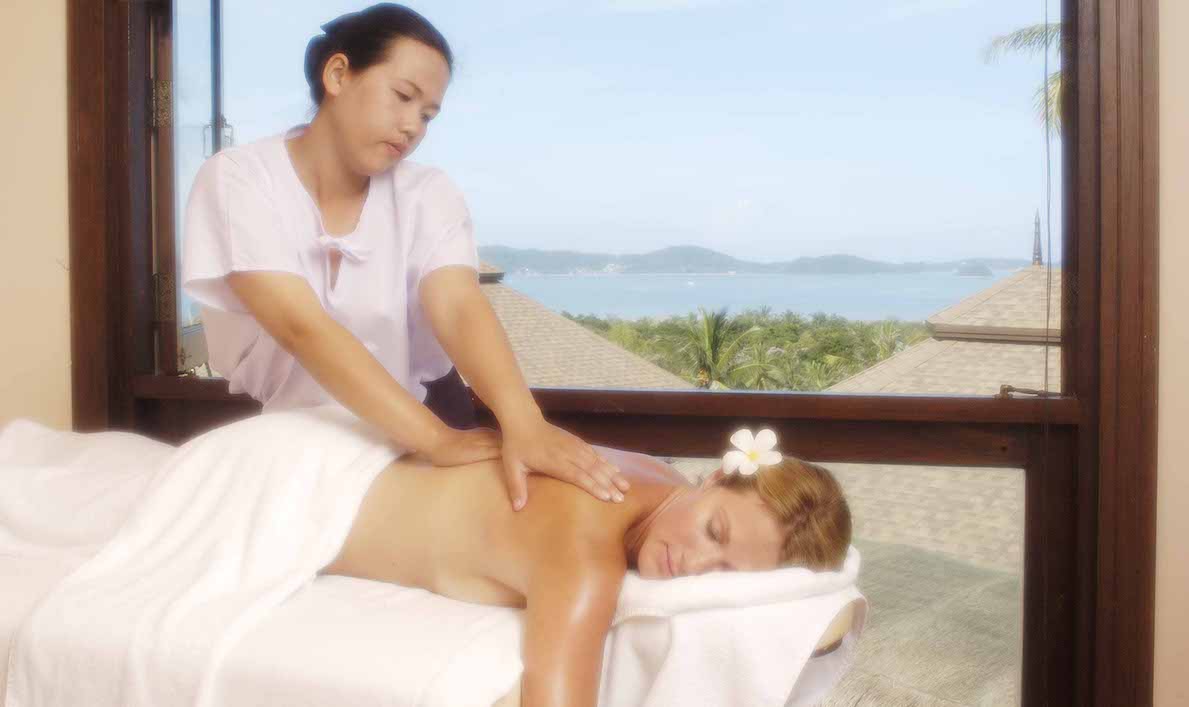 Massage at Mangosteen Ayurveda Spa, Rawai
---
Where to stay with my family in Rawai ?
Rawai, as you will have understood, is a family destination in Phuket and renting a villa for holidays in Phuket is an option to consider when travelling in a group. While there are some very nice hotels in Rawai, they are not necessarily suitable when traveling with several children. We offer villas in Rawai suitable for family holidays, including basic facilities for younger children (on request).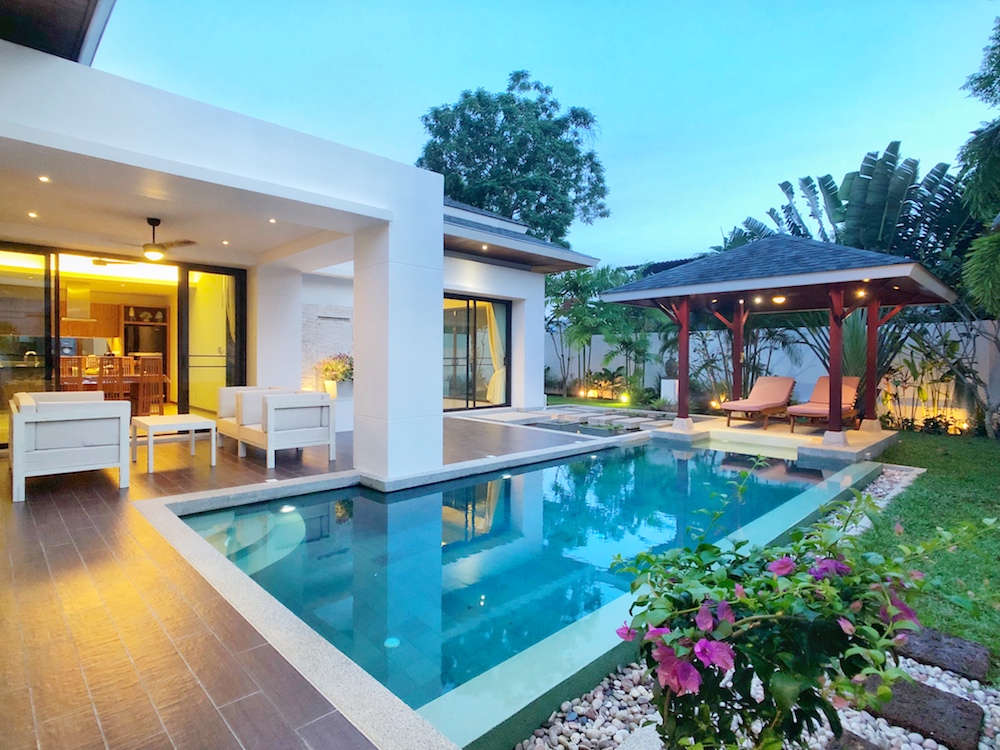 Nara Villa, Rawai, Phuket
---
Do you have any questions about your stay in Rawai?
Do not hesitate to send us your questions or comments on this "guide" section, which is destined to evolve. See you soon in Phuket!